This project attacks the subjects of memory and tragedy in a crossover location, where installations, photography, sound spaces and living art meets.
Vernissage: 15.11.2017 18:00
Maya Bösch
For this project, Maya Bösch is surrounded by Rudy Decelière (sound), Fred Lombard (camera and director of photography), Christian Lutz (photography) and Thibault Vancraenenbroeck (scenography), but also by about fifteen artists and professionals from the film, theatre, performance and contemporary art sectors.
16.11 to 3.12: HIGHLIGHT ME an experiment of continuous exposure in the presence of two actors
Every day at Cinéma Studio: RISS / FÊLURE / CREPA, a 35′ fiction film produced by the Compagnie sturmfrei in co-production with ALVA FILM
24.11 to 18h: LA FORÊT D'O, collective performance in the presence of 100 dancers
18, 19 ,24, 25, 26, 28, and 29.11 from 12pm to 5pm: CARTOGRAPHY RELIEVE, individual session with Anne Marchand, reflexology practitioner
"Explosion of Memories" is an exhibition that combines different artistic forms and practices: cinema, installation, performance, sound, writing and photography.
Taking hold of the common and the CPG as a united space, Maya Bösch proposes to stage the pieces of an exhibition that brings together: her first film, a series of sound, visual and plastic installations, in an attempt to evoke the quest for the impossible reconciliation between the alienating space of the present and the space, dreamt of, exploded from memory.
At the origin of the project, there is this meeting in 2014 between Maya and Gibellina, a Sicilian rural village destroyed by an earthquake in 1968. Then also with Nicolo Stabile, Italian producer, a child born in Gibellina a few years before the earthquake, who led the artistic team to these new places of memory. But what is memory and how is it created? Is memory always collective, tragic? What interests Maya Bösch is not memory as a black box that records the different random information of the system, but memory as a physical event that suddenly emerges: "It pierces violently, between two moments, two images, two sounds, two emotions, into the mental crack like an apparition". Memory tears time into several sequences. It becomes as present as it is palpable, a force that clashes, surprises and then sets itself up as a body, gesture or language on the ruins of reality. "Explosion of Memories" is that experience when memory strikes.
Installation Photographs : PHOTORAMA GIBELLINA, First floor of the Commun
Photographs of Christian Lutz taken during the film's shooting in Gibellina in 2016. A space immersed in a semi-darkness, structured by the graphic of about twenty light beams that cut through and punctuate the space. At the end, on the horizon, barely visible photographs appear as optical phenomena, mirages. About twenty photographs are on the wall in three different exhibition formats, on the walls at the back of the room, opposite the arrival of the stairs. Images of landscapes in the mist, at dusk, at night, territories without humans, fragments, extracts, cracks. A no man's land of picturesque beauty suddenly appears, rising up, fascinating.
The questions that concern Maya Bösch concern the relationship we have with the image: the co-production between image and spectator. How does photography manipulate, experience and reality? Who is the producer of pain and memory? The image or the spectator, or both? Another question essential to the creative process: How to photograph memory? Christian Lutz not only captured images of rehearsal and filming, but also ventured further to explore the landscapes, paths, hills and roads that lead from Gibellina Nuova to Gibellina Vecchia (about 11 km away between the two villages), and to "Grande Cretto": wandering among the ruins, the tragedy, feeling the failure and utopia of bygone times. It's about playing, mixing, relocating, reversing, distancing, disrupting,... creating visions and movement. This installation plays on the visitor's perception and his or her relationship to photography. What happens when it is far from the image, what happens when it is very close. What is an image and what is behind it? Where does photography end and his begins? Is what he sees real or imagined? What is the story of an image? What is his future, his shadow, his imprint? Gibellina presents itself to the visitor as a utopian territory, as a dreamlike, ghostly architecture.
---
Artist file
Maya Bösch * 1973 in Zürich, lives in Genève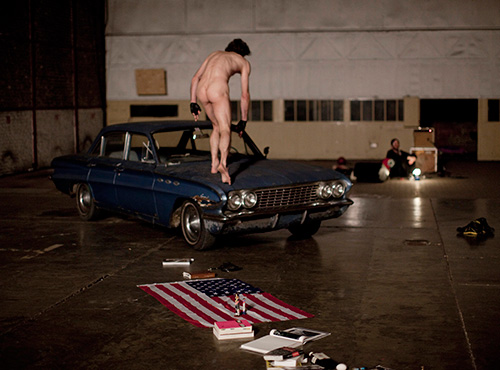 "Maya Bösch is a stand-out on today's artistic and cultural scene for the exploratory and innovative theatrical forms she creates. As founder and director of the independent company sturmfrei, she explores contemporary writings as well as classics. The theater company has created over 20 dramatic works, installations, performances, and exhibitions. In 2015, Maya Bösch received the Swiss Theater Award from the Federal Office of Culture. "
"Maya Bösch is a stand-out on today's artistic and cultural scene for the exploratory and innovative theatrical forms she creates. As founder and director of the independent company sturmfrei, she explores contemporary writings as well as classics. The theater company has created over 20 dramatic works, installations, performances, and exhibitions. In 2015, Maya Bösch received the Swiss Theater Award from the Federal Office of Culture. "
---
Exhibition view