Une performance dans le contexte de l'exposition "Act of state: Une histoire photographie de l'occupation israélienne 1967 – 2007"
Karen Mirza et Brad Butler travaillent avec photo, film et vidéo et souvent sous la forme d'installations. Ils questionnent les qualités filmiques, sculpturales et architecturales de l'image mouvement. On trouve leurs travaux collaboratifs (depuis 1998) autant dans l'art contemporain que dans le cinéma, surtout expérimental.
L'intérêt de la présentation de leur performance THE MUSEUM OF NON PARTICIPATION au Centre de la photographie Genève tient justement à leur habilité de passer d'un champ de représentation à un autre, sans parler de leur excellence à mélanger avec la même aisance les contenus les plus différents, comme les contradictions sous haute tension d'une mégapole comme Karachi et des questions inhérentes à l'art contemporain.
THE MUSEUM OF NON PARTICIPATION a pris des formes les plus diverses : workshop, résidence, présence dans un salon de coiffure, interventions dans l'espace public, films et publications, tant à Karachi qu'à Londres, où les deux artistes vivent et travaillent. La performance est une des possibles formes de THE MUSEUM OF NON PARTICIPATION, car son objet n'est pas de se prouver ou d'élargir sa propre définition, mais plutôt d'offrir un forum ouvert pour définir de nouveaux horizons, à l'opposé de la tradition formelle de l'art.
Conçue en 2007 et en constante expansion, THE MUSEUM OF NON PARTICIPATION a été initiée comme correctif au regard dédaigneux que porte l'occident sur le Pakistan, ainsi que pour faciliter un dialogue entre l'Europe (Londres connaît la plus grande diaspora pakistanaise) et le Pakistan – ravagé par la violence et la corruption – en collaboration avec des journalistes, des militants politiques et des urbanistes. Karen Mirza et Brad Butler se servent pour la version performative de projection de diapositives, de films et de vidéos, tout en accompagnant et scandant les images fixes et en mouvement avec des textes aussi poétiques que politiques. Les deux artistes réussissent à nous entraîner, avec des moyens audiovisuels fort simples et des textes allant du journal à la théorie, dans un des chaudrons du monde globalisé.
---
Sponsors
With the generous support of the following partner(s)
---
Artist file
Karen Mirza & Brad Butler * 1970 in Angleterre, lives in Londres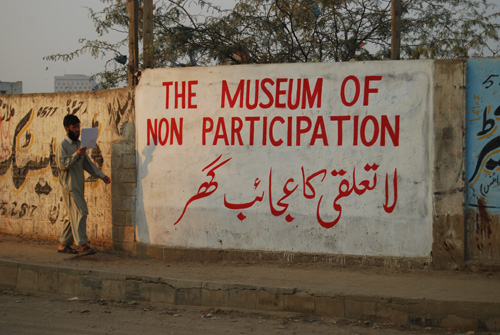 "Karen Mirza and Brad Butler's work spans filmmaking, installation, drawing, publishing and curating. The artists draw influence from critical moments of change, protest and debate. This includes an accumulation of works entitled The Museum of Non Participation (2009-present). The term "non participation" for the duo is a device for questioning and challenging current conditions of political involvement and resistance. The Museum of Non Participation embeds its institutional crit [...]
"Karen Mirza and Brad Butler's work spans filmmaking, installation, drawing, publishing and curating. The artists draw influence from critical moments of change, protest and debate. This includes an accumulation of works entitled The Museum of Non Participation (2009-present). The term "non participation" for the duo is a device for questioning and challenging current conditions of political involvement and resistance. The Museum of Non Participation embeds its institutional critique in its very title, yet it releases itself from being an actual museum. Instead it travels as a place, a slogan, a banner, a performance, a newspaper, a film, an intervention, an occupation: situations that enable this museum to "act.""